Benefits of Owning Your Own Backyard Swimming Pool
Popular Trends
Summer is here and there is no question that things have started to heat up outside. You are not alone if you have been dreaming of having your own backyard swimming pool and wishing you could just go outside and cool off in the pool instead of loading the kids up into the hot car to drive to the neighborhood pool or nearest YMCA.  How nice it would be to just have the convenience of walking out into your own backyard and not having to go somewhere.
Aside from the convenience of having a pool in your backyard, there are many added benefits that homeowners don't often consider when it comes to owning a backyard inground swimming pool.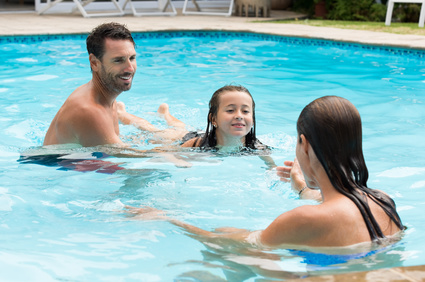 Benefits of a Backyard Swimming Pool
Health and Exercise –  Swimming is a low-impact exercise that is easier on your body but gives you a full-body workout. Swimming for 30 minutes at least 3 times a week will improve your heart, lungs, and circulation. A study in 2009 found that there was a special benefit for asthmatic children who had increased confidence and increased lung capacity.  You will also increase your vitamin D intake by soaking up those extra rays of the sun.
Social – Having a backyard pool is a big draw for social events and the perfect place for entertaining friends and family. You won't have to worry where your teenagers are or what they are up to. Combine your pool with an outdoor kitchen or gazebo and your family will have hours of fun and entertainment.
Family Time – Swimming is a wholesome and healthy activity that the whole family can enjoy. Remember playing Marco Polo with your friends and family as a kid?  Think of all the fun and games to be had and your children won't have time to fight.  Or go out for a late-night swim with your significant other.  You never have to worry about when the pool will close.
Stress Relief –  After a long day at work you can go for a swim or relax on the Baja shelf while you read a book.  You can unwind with that glass of wine or soak in the connected spa.  We all need something that is not only good for our health but also something to reduce the stress in our life.
Resale – When it comes to selling your home 9 times out of 10 buyers will choose a home for a few thousand more with a pool over one without.  If it is a buyer's market it will also help you to recoup a portion of the cost of the pool and get a return on your investment.
Very rarely do you ever hear someone say I wish we had never gotten a swimming pool. However, you will hear owners who had pools in previous houses talk about how they miss having a backyard swimming pool.
If you are ready to take the plunge and can see how a pool can benefit your family and lifestyle Artisan Pools and Spas would love to have a conversation with you.  We would love to help you design and be able to enjoy a custom inground pool in your Charlotte area home.  If you would like a free estimate you can contact us here.