Hottest In-Ground Pool Trends for 2023
Popular Trends
It may be winter but it is not too early to begin thinking about your upcoming pool project. Now is the perfect time to beat the rush and finalize your pool plans before the summer months hit. Getting a head start will make sure you can enjoy your new backyard pool retreat this summer. However, before you take the plunge take some time to find out what new and exciting and hottest pool trends you have to look forward to in 2016. There is nothing worse than after completing your pool project seeing something and thinking "I wish we had done that." or "I wish we had seen that before we finalized our pool plans." So what trends are going to sizzle this summer?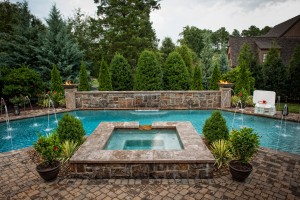 Hottest Pool Trends for 2023
Tanning Ledges/Baja Shelves – Tanning ledges are basically an oversized step that has less than 12 inches of water. They are perfect to set your chaise lounge on to sunbathe without being completely submerged. They are ideal for those little ones who can't touch the bottom yet. It gives them a place to sit and play. These ledges can be a part of the pool, separate stand- alone units, or mounted poolside.
Fire Bowls – It used to be you had to travel to Las Vegas or some grand resort to experience the effects of a fire bowl. Now you can have them in your own backyard. They add to the overall feeling and setting. They will not only grab your attention but friends and family too. They are perfect for outdoor entertaining and make spending time in the backyard that much more fun. If you are looking to make your pool and outdoor paradise this just might be the effect you need. It does take planning so if this is a feature you want be sure and tell your pool designer early on.
Glass Tile – It comes in a variety of shapes, colors, and textures. This tile has become popular with both fiberglass and concrete pools. Most homeowner's opt for a six-inch wide band to improve the overall look and aesthetics of the pool. On a concrete pool it is necessary to prevent staining from the water line. It can take an ordinary drab pool to stunning work of art. It is the perfect custom touch.
Fountains/ Waterfalls – The options are endless when it comes to adding fountains to your pool. Everyone loves to hear the sound of running water. You can even do a fire bowl fountain combination. Another popular option is to make a waterfall from the spa into the pool.
So if you are ready to dive in and begin planning your North Carolina inground pool, Artisan Pools and Spas would love to have a conversation with you. Our pool designers are up to date on all the latest backyard pool trends. They can discuss the pros and cons of each. They can show you other pool trends and help you determine which ones will be right for your Charlotte custom pool. To schedule your free pool estimate click here.