Why Custom Concrete Inground Pools ROCK!
Pool Landscaping, Pool Styles, Popular Trends
Summer will be here before you know it. So if you are thinking of getting an inground pool before the summer hits, now is the time to start! The construction time on most pools is generally 4 – 8 weeks.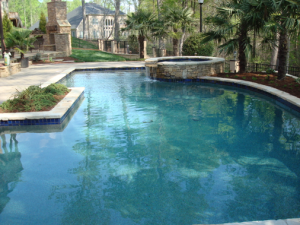 Many people wonder what type of pool they should get. Here at Artisan Pools and Spas we recommend concrete inground pools over other pool types. When building a concrete pool they are constructed in stages. You aren't just digging a hole and putting in the pool. They are the most common type of in-ground pool for a reason.
Come in unlimited shapes, sizes, and designs
You can choose from a variety of finishes: plaster, quartz, pebbles, glass beads, all in a variety of colors.
Weather resistant and durable
Well suited for high summer temperatures that we experience in the South
Can be built to meet any budget
Easy to add other built in features such as sun shelves, fountains, and hot tubs. We can even add fire and water features, combined
Add value to your home. If done well, a concrete pool will assist with the sale of your home.
If you truly want a custom pool than you definitely want a concrete pool. The options are limitless!
To receive a free estimate on installing a Charlotte area custom concrete inground pool in your yard you can contact us here.